How it All Began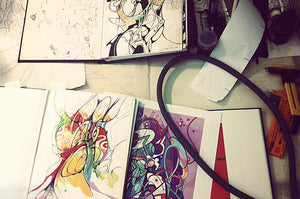 This project took a long time to gain clarity as a concept.  I spent years travelling, meeting with interesting people, hearing their stories and gathering experiences.  I lived in Russia, Japan, Israel and Germany.  Each step brought me closer to realising the potential of the ideas I had in mind all along and the constant evolution of my perceptions of the world with its different cultures and peoples made me more convinced that this was only the beginning. 
SIZE CHARTS
WOMEN'S APPAREL SIZE CHART
 After extensive research, our size chart was updated in 2015. We believe the sizing better matches and meets the body of today's modern woman.
If you have any questions, please write us a message in the facebook chat, or send mail to: squareroot5.fashion [AT] gmail.com 
If your size is slightly different to the measurements provided in the Table, please send us a message with your precise measurements at the time of placing the order. We shall do our best to accommodate your individuality. If we require additional information, we shall contact you as soon as we can.
If you have any doubts or concerns, or if you want more detailed help, email the following information (& a photo if you feel it may be helpful) to squareroot5.fashion [AT] gmail.com 
height
weight
chest (measured at the fullest (female) part)
waist (measured at the belly-button line)
hips (measured at the widest point, not just at your hips)
age